Shared Branching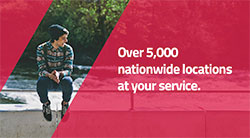 Being part of the CO-OP Shared Branch Network allows members do their banking at any credit union in the network. This means that if you are out of town on vacation or business you can conduct your credit union business at a participating credit union location near you.
What is Shared Branching?
Shared Branching is a network of credit unions that will allow "Guest Members" from any participating credit union to conduct transactions at a participating credit union. Credit unions are sharing their branches so that members will have access to over 5,000 locations nationwide.
Shared Branching FAQs
What transactions can I perform at a Shared Branch Kiosk?
Deposits
Withdrawals (maximum set by branch location or kiosk)
Balance Inquiries
Loan Payments
Transfers
Transaction Histories (Last 10 transactions)
Money Orders (set by branch location if available)
Traveler's Cheques (set by branch location if available)
Cashier's Checks (set by branch location if available)
Note: Since services vary from location to location, check with individual branches before your visit for a complete menu of available services. Funds availability may also vary from one location to another.
How can I find the nearest Shared Branch?
Find the shared branching location closest to you. Put your information in the search engine and you can find the Shared Branches participating in your area. You can also search from the TCCU Locations & ATMs page to find all Shared Branches and participating Free ATMs. Please note that TCCU does not participate in the CO-OP ATM network. ATMs at a Shared Branch may carry a service charge. Refer to our list of free ATMs when specifically looking for an ATM.
What is the difference between a Shared Branch and TCCU?
Policies at a Shared Branch may differ from those at TCCU, for instance:
Length of check holds may vary.
You will need to completely fill out transaction slips.
Valid identification is required at each visit.
Drive Thru is not always available to "Guest Members" at participating credit unions.
What information can I not get from a Shared Branch?
Answers to questions or concerns with your statement
Any account information over the phone
TCCU Loan, Savings, and other rates
Direct Deposit and Automatic Transfer set ups.
What do I need to bring with me to perform a transaction at a Shared Branch?
Valid photo ID with signature (Driver's License, Passport, Military ID)
Know your Credit Union name (Travis County Credit Union)
Account Number
How long does it take for the transaction to reach my account?
The transaction is "real time" which means it is immediately posted to your account.
Can check holds be released?
Yes, after reviewing the check, TCCU can decide whether or not to release the hold. Please contact us if you need your tranaction reviewed.
Can I deposit checks made payable to my DBA?
Yes, only if the account is set up in the DBA name.
Can I do a cash advance from my credit card at the Shared Branch?
You may be able to do a cash advance at a Shared Branch, if they accept credit cards. In that instance, you may be subject to any fees or charges imposed by those Shared Branches.
Do the Shared Branches have coin machines for our use?
If any of the other participating Shared Branches have coin machines that you can use, you may be subject to any fees or charges that are the policies of those credit unions.
Other Important Information:
If you have a password on your account, the Shared Branch will not have access to that information and therefore will not ask for you to provide it.
If you have any alerts on your account such as Update Address, See Collections or Garnishments, you will not be able to do any transactions at the Shared Branches until those have been resolved.
A cash back transaction of $500 or more may require a thumb print.
No third party check will be accepted.
A separate deposit slip for Shared Branching will be available at the participating credit unions in the network.